SUNSHINE DUST OUT SEPTEMBER 7, 2018
NEW 2018 TOUR DATES ANNOUNCED
PRE ORDERS AVAILABLE NOW
Indian/American progressive metal band SKYHARBOR has released the title track from their upcoming LP called Sunshine Dust today, exclusively via Consequence of Sound / Heavy Consequence.
"'Sunshine Dust' is the personal favorite for us," says guitarist Keshav Dhar. "It was written at the end of the Guiding Lights sessions and has gone through a lot of metamorphoses before arriving at its current form, with Kim from Dead Letter Circus co-writing a lot of the melodies. It encapsulates everything that defines our sound, the heart-on-sleeve emotion, drenching ambiance, and big riffs. It's possibly Eric's finest moment on the record."

The band most recently "Dissent" via Revolver Magazine. Prior to that, they released a music video for "Dim" with Alternative Press.
SKYHARBOR will hit the ground running once their record is released. The band is scheduled to perform at this year's LOUDER THAN LIFE FESTIVAL in Louisville, KY on September 28, 2018. Skyharbor will then continue on through various stops in the U.S. with 10 YEARS and TREMONTI. This is the first time the band is back performing on American soil since their run with BABYMETAL this past spring.
9.28.18 – Louisville, KY @ Louder Than Life Festival
10.03.18 – Asbury Park, NJ @ Asbury Lanes (w/ 10 Years)
10.05.18 – Angola, IN @ The Eclectic Room (w/ Shaman's Harvest)
10.08.18 – Green Bay, WI @ Riverside Ballroom (w/ Tremonti, 10 Years)
10.09.18 – Milwaukee, WI @ The Rave II (w/ Tremonti, 10 Years)
10.11.18 – Peoria, IL @ Monarch Music Hall (w/ Tremonti, 10 Years)
10.12.18 – Miami, OK @ Buffalo Run Casino & Resort (w/ 10 Years)
10.13.18 – Fort Smith, AR @ Temple Live (w/ 10 Years)
10.14.18 – Lafayette, LA @ The District (w/ 10 Years)
SKYHARBOR will release Sunshine Dust on September 7, 2018, via Entertainment One (eOne) / Good Fight Music. Keshav adds, "It's taken almost four years and it's been a real labor of love, but we're thrilled to finally get this record out there to our fans. We're incredibly stoked on these songs and have really dug in deep to explore and represent what we truly feel is the Skyharbor sound."
The all-new LP, Sunshine Dust, was recorded in Australia with renown producer Forrester Savell. Sunshine Dust, the band's nearly four years in the making third full-length album, delivers on the atmospheric and emotional promise of their earlier material, with breathtaking tectonic shifts between a wall of sound ambiance and groove.
On Sunshine Dust, the immersive wall of sound SKYHARBOR first perfected in the studio environment, while as polished and precise as ever, shines with a new almost analog warmth, born of the kind of collaborative camaraderie that only happens when musicians trust each other enough to experience growth.
This is music filled with empowering inspiration and sweeping passions, a supernatural slice of transcendent sonic indulgence.
SKYHARBOR erode the boundaries between traditional hit making structures and technicality dexterity with grace and poise, employing the gentle force of the changing of the tides, in all of its stealthily bombastic earth shaping might.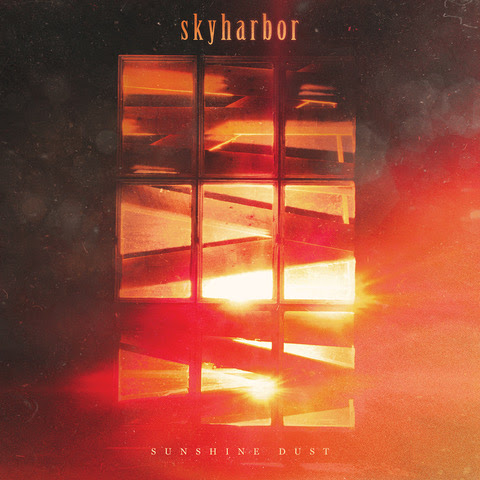 Sunshine Dust Track Listing:
1. Signal
2. Dim
3. Out of Time
4. Synthetic Hands
5. Blind Side
6. DisengageEvacuate
7. Ethos
8. Ugly Heart
9. The Reckoning
10. Dissent
11. Menace
12. Temptress
13. Sunshine Dust
SKYHARBOR
Website | Facebook | Instagram